Charles Crosby
1200–
BIRTH 1200 • Lancashire, England, United Kingdom
DEATH Unknown
Sir Simon DeCrosby
1220–
BIRTH 1220 • England
DEATH uk
SIR Odo DeCrosby
1390–
BIRTH 1390 • York, UK
DEATH York, UK
Sir Pierce Crosby
1415–1476
BIRTH 1415 • York, UK
DEATH 1476 • UK
John D Crosby I
1440–1502
BIRTH 1440 • prob Stillingfleet and Alne in Yorkshire, England
DEATH JUNE 8, 1502 • Stillingfleet or Anhe, Yorkshire, England
Miles Crosby
1483–1538
BIRTH 1483 • Alne, North Yorkshire, England, United Kingdom
DEATH 1538 • Stillingfleet?, York, England
Thomas Crosby Sr
1505–1555
BIRTH 1505 • Shipton, York, England
DEATH AUGUST 4, 1555 • Holme on Spalding Moor, Yorkshire, England
Anthony Crosby
1545–1599
BIRTH 1545 • Holme-on-Spalding-Moor, York, England
DEATH 1599 • Leonard Scayles Close, Wheldrake, York, England
Thomas Crosby II
1575–1661
BIRTH 1575 • Holme-on-Spalding-Moor, Yorkshire, England
DEATH MAY 16, 1661 • Rowley, Essex County, Massachusetts
*** Emigrated to America in 1638 ***
William Crosby III
1606–1636
BIRTH 1606 • Moor, Yorkshire, , England
DEATH JUNE 1636 • Holm On Spalding Moor, Yorkshire, , England
*** Died two years in England before his father emigrated to America in 1638 ***
Anthony Crosby
1635–1672
BIRTH OCTOBER 5, 1635 • Holme-onspalding-Moor, Yorkshire, England
DEATH JANUARY 16, 1672 • Rowley, Essex, Massachusetts, USA
*** Born three years before his his grandfather emigrated to America in 1638.Thomas probably took his grandson with him to America. ***
Nathaniel Crosby
1668–1700
BIRTH SEPTEMBER 27, 1668 • Rowley, Essex, MA, USA
DEATH MARCH 7, 1700 • Rowley, Essex, MA, USA
Nathaniel Crosby II Married Hepzibah (Pearson) Crosby
1699–1770
BIRTH AUGUST 21, 1699 • Rowley, Essex, MA, USA
DEATH AUGUST 24, 1770 • Thompson, Windham Co., Connecticut
STEPHEN CROSBY

Biography

Captain Stephen Crosby was b. in Thompson, Connecticut, 5th January, 1734; d. on the retreat from New York, 15th September, 1776; Capt. Stephen Crosby was one of the most prominent men of his day in Thompson and represented his town in the Legislature of 1776 as Representative; at the first call of the Lexington Alarm he went out as Sergeant of Captain Elliott's Company, and in June, 1776, was commissioned Captain in Wadsworth's Brigade, 3d Regiment, Col. Comfort Sage. On the retreat through Harlem, General Putnam's Division suffered sorely, and Captain Crosby was one of those who died. His body was never sent home, but a monument is erected to his memory in the cemetery at West Thompson, Connecticut; m. 16th February, 1755, Hannah Carroll dau. of John and Rebecca Carroll, b. 24th August, 1736, d. in Thompson, Connecticut 27th December, 1813, she m. (secondly) 8th May, 1783, Jacob Mascraft.

CONNECTICUT'S RESPONSE TO THE LEXINGTON ALARM

Following the Patriot confrontation with British troops at Lexington and Concord on Wednesday morning April 19, 1775. "An alarm was immediately spread in every direction, so that on the 27th of April it had reached the principal points as far as Baltimore, and by the 11th of May was posted at Charleston, S.C. Throughout New England, the news was rapidly carried by horse expresses from town to town. It was dispatched to Connecticut by the Massachusetts Committee of Safety at Watertown during the progress of the fighting, or near ten o'clock of Wednesday morning, April 19th: The bearer, Israel Bessel, is charged to alarm the country quite to Connecticut, and all persons are desired to furnish him with fresh horses as they may be needed."1 "The alarm which was carried by a man with a drum on horseback, found Putnam ploughing in the field. Putnam merely unyoked his team from his plough, and bidding his boy to go home, and tell his mother where he was gone, mounted his horse, and dashed away down the road towards Boston. In twenty-four hours he was there, a distance in those days, of nearly one hundred miles."

1734–1776
BIRTH 5 JAN 1734 • Thompson, Windham, Connecticut
DEATH 15 SEP 1776 • Harlem, New York
.... Captain in Revolutionary War. Died during retreat of the Battle of Harlem Heights, September 15, 1776
.... Record of Service of Connecticut Men in the War of the Revolution, Lexington Alarm, Joseph Elliot's company,
.... 3rd Battalion, Wadsworth Brigade, commanded 5th Company, KIA September 15, 1776

.... Record of Connecticut Men in the Military and Naval Service During the War of the Revolution 1775-1783

*** There is speculation that Sarah Crosby and Wyman Carroll may be first cousins based on the image below.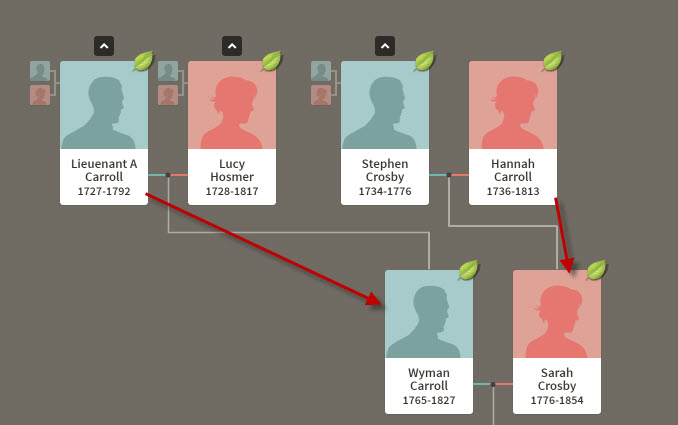 WikiTree - Stephen Crosby (1734 - 1776)
CTGenweb Project -CEMETERY INSCRIPTIONS - HALE COLLECTION - Headstones at "West Thompson Cemetery" in Thompson, Ct., located in West Thompson.>
Stephen Crosby Memorial Monument at "West Thompson Cemetery" in Thompson, Ct., located in West Thompson
Sarah Crosby
1776–1854
BIRTH 20 NOV 1776 • Killingly, Windham, Connecticut, USA
DEATH 22 DEC 1854 • Thompson, Windham, Connecticut, USA


**MARRIED **

Wyman Carroll
1765–1827
BIRTH 1765 • Thompson, Windham, Connecticut, USA
DEATH 1827 • Thompson, Windham, Connecticut, USA
Arthur Carroll
1796–1834
BIRTH 27 FEB 1796 • Thompson, Windham, Connecticut, USA
DEATH 16 JUN 1834 • Thompson, Windham, Connecticut, USA
George Henry Carroll
1825–1889
BIRTH 02 APR 1825 • Sturbridge, Worcester, Massachusetts, USA
DEATH 20 DEC 1889 • Willimantic, Windham, Connecticut, USA
Arthur Albert Carroll
1875–1954
BIRTH 10 JUN 1875 • Preston City, New London, Connecticut, USA
DEATH 26 AUG 1954 • New Haven, Connecticut, USA
Ethelda Jane Carroll
1907–1978
BIRTH 03 MAR 1907 • Hamden, New Haven, Connecticut, USA
DEATH 28 NOV 1978 • North Haven, New Haven, Connecticut, USA
Betty Ann Boehner
1940–
BIRTH 17 SEP 1940 • New Haven, Connecticut, USA
DEATH Living
James Robert Moore
1965–
BIRTH 06 SEP 1965 • New Haven, Connecticut, USA
DEATH Living